What follows is an extract from the book entitled 'A brief History of St Anthony's Catholic Church in
Ottery St. Mary - Devon' written by Michael Courtney, a parishioner at St. Anthony's.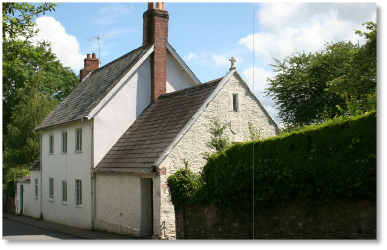 The first location of St. Anthony Chapel in modern timesIt was not until the early part of the 20th. century that the old religion began a revival. Father Van Heede, from Deer Park, celebrated Mass for Belgian refugees in the area during the Great War of 1914-1918, but it was 1927 when the Mass finally returned to Ottery. Number 40 North Street was at first rented, and then bought, by two converts, Miss Lillian Cotrell and Miss Cortiff, both trained nurses, who dedicated their lives to the care of children with special needs, six of whom lived with them in St. Anthony's, as they now called their house.

They converted a Nonconformist chapel (which had formerly been St. Mary's Church Infant School) attached to the property, into a schoolroom, where they taught their young charges. When Miss Cortiff left Ottery some months later, Miss Cottrell carried on single-handed. She cycled six miles to Mass in Sidmouth every Sunday, but had no means of transporting the children. She tried Honiton, and found the journey easier, but still was unable to take the children with her. She determined that, if they could not go to Mass, the Mass should come to them. She petitioned the Bishop of Plymouth, Dr.John Kiely, to authorise the celebration of the Mass in St. Anthony's, and in June 1926, as a result of a visit he made to the house, permission was granted, and Ottery was placed under Honiton parish. Mass in the new Mass Centre was celebrated in February, 1927, by Dom Petreck Dengle, a Benedictine from Buckfast Abbey. The congregation consisted of six adults and five children with special needs. The first resident priest appointed to Honiton parish, whose duties included Ottery, was Father William Fox.
As the numbers of children with special needs grew, St. Anthony's became too small, and, in 1929, Miss Cottrell bought Raleigh House, a much bigger property in Mill Street. She had the old coach house converted into a chapel, in which permission was granted to reserve the Blessed Sacrament.
Raleigh House has a very interesting history. It was built in 1806 in what had been the garden of a much grander house, built by Sir Walter Raleigh around 1590, using stone from St.Mary's College, closed by Henry VIII at the dissolution of the monasteries. Polwhele, in his "History of Devonshire"(1793-7), describes the building as "...this mouldering structure in which Sir Walter Raleigh once resided..." and adds that there was "one turret still existing, and the house has altogether a monasterial appearance." In 1869, Rev. Sidney Cornish wrote: "It was the chief house of a block of five, which was consumed by fire on the 15th. May 1805." Destruction must have been complete, because by the following year a new house had been built, with "side offices" on the site of the original house. This was what we now know as Raleigh House, first occupied by the surgeon Thomas Davy and his wife Elizabeth. Their son Edward Davy was born here in 1806, later becoming a member of the Royal College of Surgeons, and Ottery's famous pioneer of the Electric Telegraph.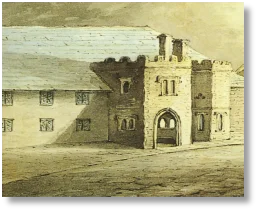 Original Raleigh House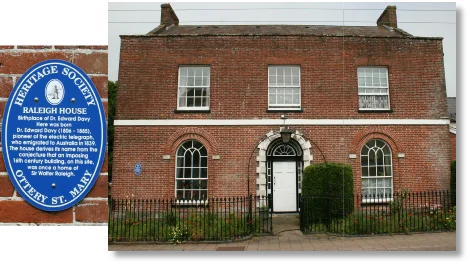 Present Raleigh House
This, then, was the property Miss Cottrell bought in 1929 to house her growing group of children with special needs. When the Augustinian Recollects assumed responsibility for Honiton Parish in 1933, Father Mariano Ortiz, whose duties included Ottery, became friendly with Miss Cottrell. He was determined that there should be a Catholic school in Ottery, and, when Miss Cottrell offered the North Street house to the Order, he invited the Sisters of St. Anne in Wimbledon to establish a convent and school there. A new chapel, paid for by Miss Cottrell, was built next to Raleigh House and dedicated to St. Anthony. It was blessed by the fifth Bishop of Plymouth, the Rt. Rev. John Barrett, who celebrated the first Mass there on 16th. June 1935.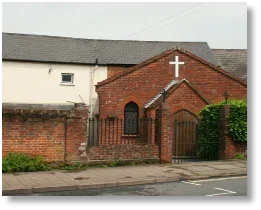 St. Anthony's Church becomes a Parish
The Sisters of St. Anne, being unable to carry on their school owing to complications with their Rule, left at Christmas 1940. Father Ortiz was anxious that Catholic education should not be lost to the children of Ottery, and asked Bishop Barrett for help. The Marist Sisters, who had been evacuated from their convent in Peckham at the outbreak of war in 1939, were invited to fill the gap. They came to Ottery on 31st. December, 1940, and bought "Dolforgan" in Broad Street. This was their convent and school until 1945, when they occupied Raleigh House, vacated by Miss Cottrell when she moved her home for children with special needs to Colyton, near Seaton, and donated the house, garden and church to the Order of Augustinian Recollects. The "Marist Convent School for Girls and Young Boys" continued in Dolforgan, and Raleigh House became the convent. A room in the old part was converted into a chapel, in what is now the Parish Hall.
During the second world war, the Augustinian Recollects returned to Ivybridge when their house and school in Honiton ("Broomhills") was requisitioned by the War Ministry. Father Ortiz continued to look after St. Anthony's Parish, assisted by Father Florencio Alfaro, travelling from Ivybridge to Ottery and Honiton every weekend to say Sunday Mass. In 1940, he conducted the first baptism in the parish.[1] That same year, he opened a school for young boys at No. 64, Mill Street, which he named St. Augustine's. There were nine boys, aged 9 - 14, on roll, taught by Irish students from St. Rita's Seminary, Sister Cuthbert from the Marist Convent, and a soldier in the Royal Engineers who was subsequently killed at El Alamein, clearing mines. On 12th. January, 1941, Father Ortiz blessed "Dolforgan", and the Marist school was opened. There were 35 children on roll that first day, many of them from St. Anthony's, North Street, closed on the return of the Sisters of St.Anne to Wimbledon. 1941 also saw the first High Mass to be celebrated in Ottery since the Reformation.
During the war years, as evacuees arrived and departed, the school roll at Dolforgan was constantly changing. By 1944, there were 100 pupils on roll, principally children from local families, not all of them Catholic. The house was no longer big enough to contain both convent and school, and Father Ortiz, wanting to keep the Marist Sisters in Ottery, offered them a five-year lease on Raleigh House, renewed in 1949. When the lease finally expired in 1954, the Sisters moved their convent to Bradleigh End at the top of Tip Hill, within walking distance of Dolforgan. A few years later, it was decided to cater only for junior pupils, Bradleigh End was sold, and the Sisters moved back into Dolforgan.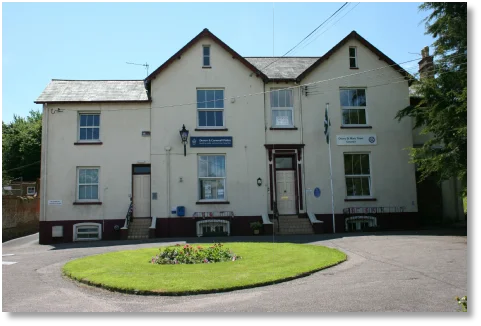 Convent and Catholic School
In 1946, the same year that the Augustinian Recollects returned to Honiton, when Broomhills was handed back by the War Ministry, Father Patrick Dunne, O.A.R., was appointed Parish Priest of St. Anthony's. He took up residence in Raleigh House, and assumed the duties of chaplain to the Marist Sisters, adapting three small rooms as his living quarters.
In June, 1953, Father Matthew Holland, O.A.R., succeeded Father Dunne, and, a month later, moved out of what had been Father Dunne's quarters, retaining one room as an office. He returned to live in St. Rita's, as Broomhills had been renamed, travelling to Ottery every day to say Mass.
He undertook extensive alterations to a suite of rooms adjacent to the church, and took up occupancy of his new apartments in October 1954.
(Tony Madden, our longest - standing parishioner, remembers helping to erect a staircase from the sacristy to Father Holland's apartment. He describes the "frightening" experience of descending the stairs, owing to the treads being inclined downwards at an angle of some ten degrees.)
Father Holland stayed on until March 1st., 1962, when he moved to take over Honiton parish, and was succeeded, for only seven months, by Father John Walsh, who then returned to St. Rita's to take charge of the teaching of Latin and Spanish at the college.